Hannah has lots of exciting exhibitions running currently and coming soon, including Brush Brighton's International Women's exhibition and her own solo show at Broken Arrowz Gallery on Madeira Drive, Brighton, pieces in Sun Brighton and Hello Gorgeous, Kemp Town. Her work is also exhibited at White Mulberries at London's King Cross.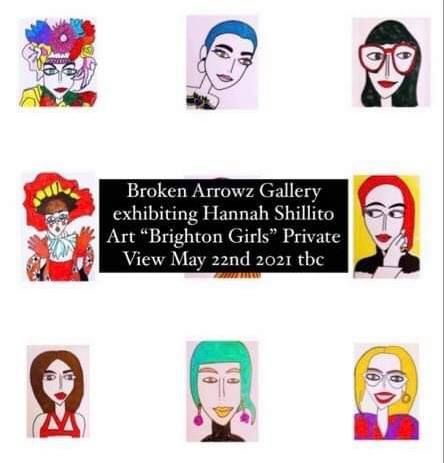 Posted On 15 Mar 2021
By : Graham Robson for GSCENE magazine
Artist Hannah Shillito has drawn over 100 Brighton women for a new seafront gallery to raise awareness for Survivors' Network, which aims to reduce sexual violence and its impact on survivors' lives through counselling, advocacy, peer support and group work as well as training for professionals.
Hannah , the colourful artist behind Hannah Shillito Art, says lockdown has actually been the reason for the women she has drawn coming together in order to share their inspiring stories while having their portrait done. A Facebook post in the Brighton Girl city network asking for muses for her art resulted in over 100 volunteers coming forward for a chance to be drawn.
Hannah said: "While we've been locked up in lockdown it has been hard to feel creatively inspired… and more than that it has been hard to feel like part of a community.
"The Brighton Girl network has provided us with that and more, and I have made so many inspiring new friends as well as allowing my art to take off in ways that I never imagined – with a new gallery owner seeing my art and exhibiting it and the charity Survivors Network reaching out and becoming involved too."
Hannah Shillito's Brighton Girls series exhibition will take place with a private view and launch party at Broken Arrowz Gallery, Madeira Drive on May 22, 2021 (​date subject to change depending on lockdown legislation)​. Donations to Survivors' Network will be encouraged, and prints and originals can be bought with a percentage going to the charity. There will be drinks, a raffle and entertainment from other Brighton Girl singers and artists!
This is the featured heading for your block